The cream of the UK's classic racers will join the CRMC's biggest race meeting of the year with over 500 bikes in a packed programme of 42 races and six parades. This event will feature the Optical Express Classic Racing Motorcycle Championships. Two ACU Classic Championship races will be highlights, including the ACU 1300cc race for the much-coveted Wheatcroft Trophy.

Classic bikes from the 60s all the way through to the 90s will be on track with an amazing variety of solo machines ranging from 125 two stroke Hondas to 1300cc four cylinder four strokes from Japan. In the ever-spectacular sidecar classes, expect to see battles between outfits powered by engines from BSA, Triumph, Hillman Imp, BMW and Yamaha.

The racing will take place on the National circuit leaving the Melbourne Loop section to host a fantastic display of Grand Prix and historic race machines. And the paddock will be completely open all weekend. As ever, there will be star guests present too, at one of the UK's most celebrated motorcycle festivals.
Tickets will be available on the gate
CRMC Classic Motorcycle Festival
Saturday 29 - Sunday 30 July 2023
00
Days
00
Hours
00
Mins
00
Secs
Weekend Admission
(Saturday - Sunday)
Sunday Admission
(Saturday - Sunday)
PLEASE NOTE: Advance booking closed at 16:00 Thursday 27 July. If you haven't received your ticket(s) please contact us. Children under 18 must be accompanied by an Adult.
Radio
Order your radio earpiece in advance and collect it at the circuit from one of our selected programme booths or circuit shops - click here for more information.
ACU Classic Championship
The pack approaches Redgate on the first lap of the 500 race #106 is Joe Barton, #25 Richard Molnar, #14 Lee Hodge, #112 Pete Weston, #8 is Mark Cronshaw; #24 Mike Cooper.
ACU Post Classic inc. The Wheatcroft Trophy Race
The Post Classic Championship brings together an eclectic mix of bikes ranging from the 350cc TZ Yamaha to the 1260cc Kawasakis and XR69 Suzukis. The winner of the ACU Post Classic race will receive the prestigious Wheatcroft Trophy, a name that will always be associated with Donington Park.
CRMC Solo Championships
Apart from the ACU events, all races will count towards the 2020 CRMC Championships. In many of the classes it is close at the top of the leaderboard, but with ten rounds to go there is still all to play for.
CRMC Sidecar Championships
2017 Champions Kevin Hunt; Alan Cracknell riding outfit #66 lead the charge into Redgate on lap one of the sidecar race.
Lansdowne Cup
Knee down action from the Lansdowne Cup race taken at Roberts Chicane. #78 is Dean Stimpson, the rider hidden behind Dean is Michael Russell, #25 is Glen English and #1 is Chris Firmin. All riding 500cc Manx Nortons.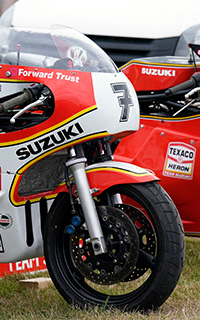 Special Display & Parade Bikes
The weekend will feature an array of special bike displays from the 60's, 70's, 80's, 90's and 00's. Some of these will also be taking part in special parades on-track to see a full list of bikes CLICK HERE.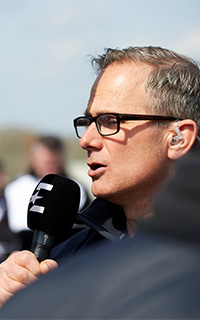 Special Guests and Personalities
Many special guests and personalities will be in attendance at the event, including Jamie Whitham on the Sunday. For a full list of special guests CLICK HERE.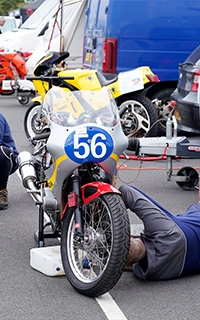 Open Paddock
Spectators can access the open paddock and get up close to the bikes that are participating on circuit.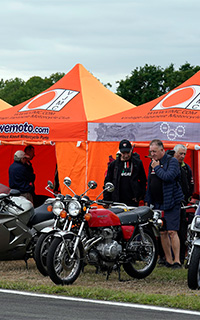 Vintage Japanese Motorcycle Club
The Vintage Japanese Motorcycle Club will be out in force this weekend with a vast display of bikes on the GP loop.
Free Parking
General Public and Disabled Parking is free of charge. All persons will require a valid entry ticket.
Whether you're entertaining clients or celebrating a special occasion with family and friends, a hospitality package offers an exhilarating day out in fabulous surroundings. For booking enquiries contact 01474 875224 or [email protected].
Hospitality Information
Donington Park Farmhouse is located conveniently next to Donington Park Race Track and has direct pedestrian access to the pits and paddock entrance. Please note the farmhouse is not operated by Donington Park, so please visit their website for booking details.